Employment
Join the hard working, dedicated team at McDonald Physical Therapy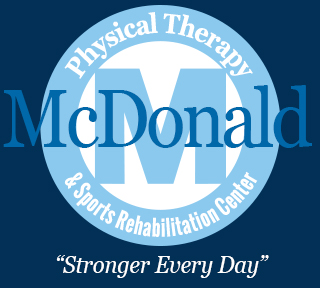 At McDonald Physical Therapy, our commitment to our patients comes naturally for our hard working and dedicated staff. We treat our employees with respect, offering competitive salaries, generous benefits, and the opportunity to work for one of the most respected physical therapy practices in the Midwest.  If you are interested in employment with McDonald Physical Therapy, please fill out the form below or print out our employment application, and fax it to: (574)233-7406 or email it to us at cklein@mcdonaldpt.com.
Current Job Openings
Be part of a legacy of excellence! McDonald Physical Therapy is the largest and longest lasting private outpatient physical therapy practice in the Michiana area, and is respected nationwide. McDonald Physical Therapy believes in exceeding patient expectations using consistent, progressive, innovative care, and teamwork. We are a fast paced, fun environment with an emphasis on orthopedic and sports injuries.
Physical Therapist
Your continued professional and personal growth is a major part of our culture! We require and generously support CEU's, and we provide a 6 month in-house, orthopedic mentoring program, followed by more one-on-one, advanced training after 1 year from the clinic owner.
McDonald Physical Therapy is a long-standing (32 year), therapist-owned and operated, private, outpatient clinic. We offer a fast-paced, fun environment with an emphasis on teamwork, continuous learning, and growth! We treat patients like family and exceed their expectations. In addition to the usual modalities, we use anti-gravity (Alter G), aquatic (Hydroworx), and blood flow restriction to provide progressive, innovative care.
McDonald Physical Therapy and Sports Rehabilitation Center is highly respected for the quality of care we provide and the close-knit culture we create. Come be a part of our legacy of excellence!
Job Description
Evaluate and develop treatment plans for orthopedic, sports, and spine patients
Implement plan of treatment and re-evaluate when necessary to alter plan of care
Develop home exercise programs and self treatment plans for patients
Establish rapport with patients, staff, physicians, and other referral sources
Educate patients on diagnosis and treatment plan
Continue to learn new approaches and techniques
Participate in our in-house mentoring program
Provide supervision and consultation of physical therapy assistants and aides
Qualifications
Master's or Doctorate in physical therapy from APTA accredited school
Licensed or about to be licensed in Indiana
We seek someone who:
Is passionate about learning and growing and treating patients like family
Has a desire for excellence
Has a strong work ethic and ability to multi-task
Schedule
Full time position. Requires some early morning and evening availability. No weekends.
Benefits
Comprehensive employer-supported healthcare packages available, including dental, vision, life, and short-term disability.
401K retirement plan with 10% employer contribution
Paid holidays and PTO
Up to $2,000 annual CEU reimbursement
Compensation
Competitive, with bonus opportunities.
(Note: This job description is not meant to be an exhaustive list of all duties, responsibilities, or qualifications.)
Benefits:
401(k)
Dental insurance
Disability insurance
Health insurance
Life insurance
Paid time off
Professional development assistance
Vision insurance
email resume to cklein@mcdonaldpt.com