Employment
Join the hard working, dedicated team at McDonald Physical Therapy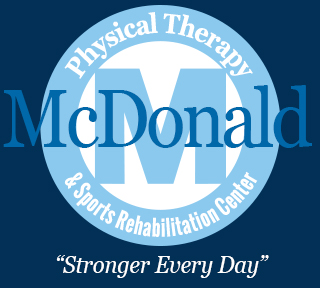 At McDonald Physical Therapy, our commitment to our patients comes naturally for our hard working and dedicated staff. We treat our employees with respect, offering competitive salaries, generous benefits, and the opportunity to work for one of the most respected physical therapy practices in the Midwest.  If you are interested in employment with McDonald Physical Therapy, please fill out the form below or print out our employment application, and fax it to: (574)233-7406 or email it to us at farinhend@sbcglobal.net.
Please fill out the form below
Current Job Openings
Marketing Coordinator-Part Time
Job Summary: Monitor and stimulate doctor referrals to our clinic. Ensure quality care and service by building and maintaining relationships with referral sources and their staffs. Manage community involvement activities to promote our brand awareness.
Job Duties:
-Keep updated files with referral source interactions and doctor office visits
-Manage marketing campaigns and promotions to referral sources
-Organize and deliver success stories weekly
-Generate and deliver referral source recognition gifts and cards
-Coordinate and attend community health fairs and sponsored charity events
-Plan and organize Physical Therapy Month celebrations and Readers' Choice voting efforts
-Create and maintain marketing materials and outlets to inform community of our services and benefits of physical therapy
-Analyze referral statistics to ensure effective relationship strategies
-Develop strong relationships with physicians and their staff
Required skills:
-Two years' experience in marketing preferred
-Basic computer skills including knowledge of Microsoft Word and Excel
-Professional appearance
-Exceptional written and verbal communication skills
-Ability to work in self-directed, fast-paced, results-oriented environment
-Ability to maintain an upbeat and positive attitude at all times
-Strong interest in meeting new people, promoting brand awareness, and implementing marketing strategies
-Ability to travel off site with own vehicle
email resume to cklein@mcdonaldpt.com
Rehabilitation Assistant
This position supports physical therapy care by preparing treatment area, patient, equipment and materials; performing procedures, under the supervision of a physical therapist.
Maintains safe and clean working environment by complying with procedures, rules, and regulations. Maintains physical therapy supplies inventory by checking stock to determine inventory level; anticipating needed supplies. This position requires a punctual person who is very friendly and has excellent time management skills.
Requirements: Associates/ Bachelor's Degree (Exercise Science, Biology, Pre-PT, Pre-Med, Athletic Training) preferred, high school diploma required. Previous work experience preferred. Be able to work nights and early mornings- weekdays only.