Employment
Join the hard working, dedicated team at McDonald Physical Therapy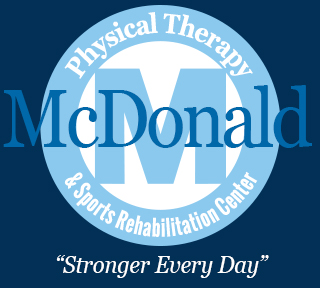 At McDonald Physical Therapy, our commitment to our patients comes naturally for our hard working and dedicated staff. We treat our employees with respect, offering competitive salaries, generous benefits, and the opportunity to work for one of the most respected physical therapy practices in the Midwest.  If you are interested in employment with McDonald Physical Therapy, please fill out the form employment application , and fax it to: (574)233-7406 or email it to us at cklein@mcdonaldpt.com.
Current Job Openings
Be part of a legacy of excellence! McDonald Physical Therapy is the largest and longest lasting private outpatient physical therapy practice in the Michiana area, and is respected nationwide. McDonald Physical Therapy believes in exceeding patient expectations using consistent, progressive, innovative care, and teamwork. We are a fast paced, fun environment with an emphasis on orthopedic and sports injuries.
CURRENT OPENINGS: Physical Therapist
Physical Therapist
At our outpatient physical therapy and sports rehabilitation center we are experts in providing a Healthy Recovery, assisting with Pain Management, and developing individualized strategies to Enhance Performance for all athletes.
Along with our expert advice and training, our workout facility is available to patients after therapy has been completed to help them stay active.
Our South Bend facility is 14000 sq ft with modern state of the art equipment and we also have a clinic on the campus of University of Notre Dame.
We are looking for professionals who love to learn and become the best version of themselves as a person and physical therapist. Our therapist recognizes both the physical and emotional challenges patients experience.  We treat our patients like they are the most important person at that moment.  If you want to be part of a team who sees that patients have individual needs and challenges, then we want you!
Compensation:
Salary $75,000 commensurate  with  experience
Monthly and Yearly Bonus packages available
Benefits Offered:
Medical

Dental

Vision

401(k) with 10% of wages awarded yearly

CE allowance

Paid vacations and holidays, total 24 days/year

Disability insurance

Life insurance

Negotiable Sign On bonus or relocation assistance
Requirements of the Physical Therapist
We welcome new grads who have Master's or Doctorate degree in Physical Therapy from accredited college.

Licensed as a Physical Therapist in Indiana.

Experience with WebPT preferred.
Job info and responsibilities of the Physical Therapist:
Offering individualized evaluations and treatment plans for each patient.

Exceeding patient expectations using consistent, progressive, innovative care, and teamwork. We are a fast paced, fun environment with an emphasis on orthopedic and sports injuries.

Service patients from about 11 years old to 102 years old in a large 14,000 sq ft facility that includes gym equipment for after care exercises.
Employing creativity for individualized programs utilizing  techniques to encourage rapid recovery: Maitland, Mulligan, McKenzie, Cyriax, Stanley Paris, McConnell taping, Master Dry needling, AAMT.
Utilizing state of the art equipment such asHydroworx and Alter G.

The first 1-2 years, our new therapists provide one on one patient care for a full hour.

Continual learning and training through mentoring, continual education (paid for by clinic) and collaboration.
Job Type:
Full time
Schedule:
Full time schedule to be determined.
Hours of Operation:
7:00 am – 7:00 pm Monday, Tuesday, Wednesday, Thursday
7:00 am – 5:00 pm Friday
Why you want to come work for us:
We have state of the art equipment and cutting edge methods in a personalized clinic environment.

We have a strong mentoring program that develops our physical therapists into exceptional, diagnostic, caregivers in our niche.

We have a strong friendly team of professionals who care about each other and often socialize outside of work together.

Our community has believed in us for 34 years and staff who have been with us for over 30 years