Why Choose Us
McDonald Physical Therapy is unique in Michiana for our quality of care, affordability and patient focus.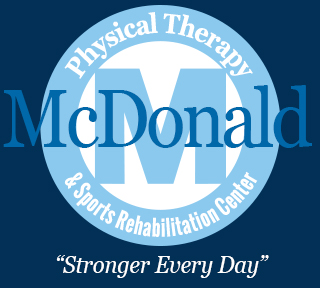 Here are 10 reasons why McDonald is right for you:
Patients are seen until they achieve maximum results, often even when they are no longer covered by insurance.

The cost of a visit at McDonald Physical Therapy is one third the cost of other neighboring physical therapy practices based on data from a third party survey.

98% of McDonald Physical Therapy patient surveys report that patients would return if in need of future physical therapy.




McDonald Physical Therapy has served over 50,000 patients.

Patients are offered an opportunity to schedule their initial evaluation appointment within 24 to 48 hours of contacting McDonald Physical Therapy.

McDonald Physical Therapy is the only clinic that is open 7:00 a.m. to 8:00 p.m. Monday through Thursday and 7:00 a.m. to 5:00 p.m. Friday, enabling patients to come before or after work/school.

McDonald Physical Therapy patients begin their session within five minutes of their scheduled appointment time.

McDonald Physical Therapy therapists regularly communicate with referring physicians, serving as physician/ patient advocates to ensure quality care and follow up.

Patients are scheduled with one therapist to provide consistency of treatment.




The patients at McDonald Physical Therapy are treated in a positive and caring family environment.

Patients see results quickly, which often makes it possible to avoid other more invasive forms of treatment (surgery).

The average recovery time at McDonald Physical Therapy is 10 visits. Other practices range from 12 to 16 visits.

McDonald Physical Therapy PTs and PTAs are given several months of therapy training, similar to a residency program, followed up with mentoring and continuing education.